What is Epoxy and other Protective Coatings?
Epoxy and other protective coatings such as Polyaspartics and Urethanes are typically a 2 or 3 component product containing resins, hardeners, and occasional aggregates that are mixed together prior to installation that will then cure, resulting in a hard and solid finish.
Epoxy is a 2 component, 100% solids, cyclo-aliphatic coating system that has exceptional adhesion properties to concrete substrates. There are no VOC's and has minimal odor during installation.
Urethanes are either a 2 or 3 component product that can be used as a top-coat on any epoxy system or be used as a heavy duty urethane cement system for industrial use. These products offer great chemical resistance for any environment and are VOC Compliant.
Polyaspartics are considered a 2 component product (Resin + Hardener) that acts as a Epoxy and Urethane Hybrid. These products offer great chemical resistance, UV Stability, and have a low odor for residential installation and are VOC Compliant.
What are the benefits of choosing epoxy flooring? 
Perfect for home or business
Quickly and easily installed
Creates a bright, seamless surface
Gives existing floor extra protection
Resists wear, even in areas of sustained, heavy foot traffic and vehicle impact
Makes floors impenetrable to water and chemical spills
Low-odor and stain resistant, even to oil
Can withstand extremes in temperatures
Adds durability to commercial and industrial facilities
Provides hygienic floor spaces
Highly customizable; available in decorative styles, including solid colors and stone effects
3-4 times as strong as regular concrete
Reduces slippage, increasing safety for employees and customers
Enhances existing signage, as it can be used to designate workspaces, walkways, etc., with different colors/patterns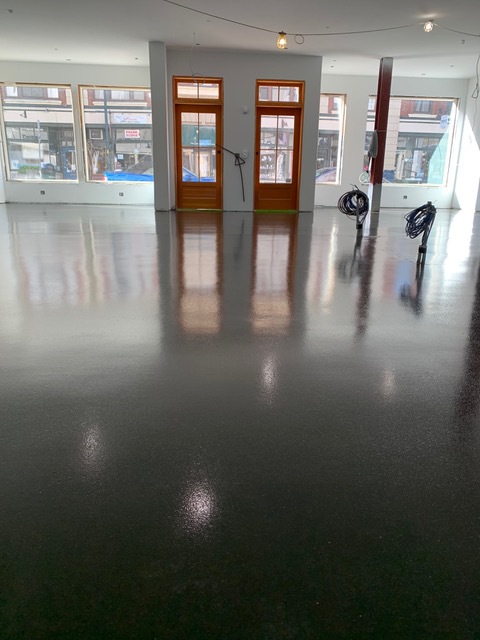 What are the common uses for epoxy flooring? 
Epoxy can be used in many industries because of its diversity and customization options. Epoxy floors are perfect for:
Residential Garages and Basements
Commercial Kitchens
Manufacturing Facilities
Fire Houses
Auto-Shops
Warehouses
Airplane Hangers
Salons/Barbershops
Breweries & Distilleries
Retail
Veterinary & Kennel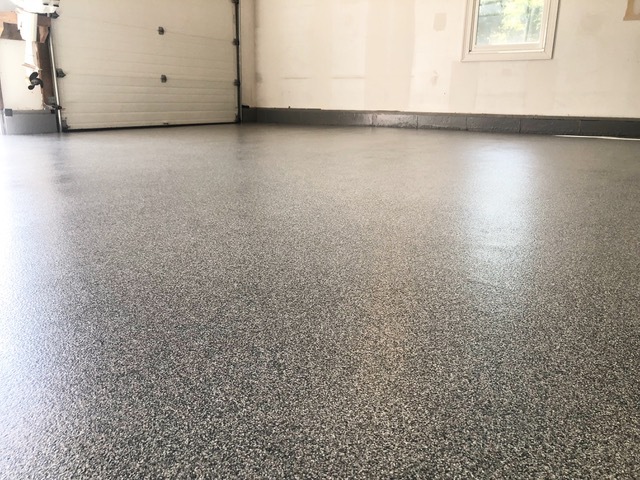 Why Pro Epoxy?
The Pro Epoxy Team are experts in surface preparation, a KEY component for effective and long lasting installation. Consider this: 60% of the garage floors that are installed by Pro Epoxy are to "Remove and Replace" previous DIY projects because of improper preparation. Pro Epoxy takes pride in mechanically preparing the concrete substrate with superabrasive diamond floor grinders attached to HEPA approved Vacuums. These preparation methods create a porous and proper concrete surface profile for effective installation.
Pro Epoxy offers a variety of different products to install depending on the clients needs as well as the type of environment that the floor will be withstanding. We know that a quick turnaround can be essential, and we have products that can get clients back on the floor 24 hours after installation.